If you work in the world of design or photography, it is likely that more than once you've needed a pixel to cm converter and vice versa, right? With our calculator you already have a very easy to use one for this task.
Its operation is very simple. All you have to do is choose whether you want to convert from pixels to centimeters or from cm to px, type the dimensions and press the calculate button to obtain the equivalence.
Pixels per inch and other considerations
It is likely that if you are looking for information on how to go from pixels to cm, you have seen in many places the acronym DPI or PPI - what do they mean?
DPI stands for Dots Per Inch while PPI refers to pixels per inch. Both terms refer to resolution and are exactly the same. In some places you may also see PPI (Points Per Inch) but again, it refers to the same concepts.
When we talk about pixels per inch we are referring to the resolution, i.e., the number of pixels within one inch or 2.54 centimeters.
From the above we deduce that the more pixels there are per inch, the higher the quality of the image. The clear example is the latest generation of tablet and mobile screens with resolutions of up to 4k, offering a very high pixel density per inch with which we obtain a degree of definition that is difficult to surpass.

If you want to print a photo you have on your computer, it is advisable to at least do it with a resolution of 150 pixels per inch to obtain acceptable results. From 300 dpi we achieve better results.
How to convert from pixels to cm
If you want to know how to go from pixels to centimetersWe are going to explain it step by step.
At the outset, we must have the following data to be able to make the conversion:
Height and width of the photo in pixels
Resolution in pixels per inch
Then we simply have to perform the following operations (which you can solve with our division calculator):
High/ppi
Width/ppi
Once we have made the above divisions, we have to pass the measurement in inches to centimeters. To do this you can use the calculator that you will find in the link that we have left or divide each value by 0.393701.
Por ejemplo, vamos a pasar de píxeles a centímetros una fotografía que tenemos de 1920x1080 y 300 píxeles por pulgada, ¿a qué tamaño podemos imprimir la foto para que no pierda calidad? Veamos:
1920/300/0.393701 = 16.26 centimeters
1080/300/0.393701 = 9.14 centimeters
If we print the photo at that size as maximum, we will maintain the quality. Anything larger than this size will result in a loss of definition.
How to convert from cm to pixels
For convert from cm to pixels we have to do the opposite operation to the previous one, that is:
Height (cm) x dpi x 0.393701
Width (cm) x dpi x 0.393701
Converting from centimeters to pixels is less common, but if you need it, we offer you the possibility to make the conversion.
How many pixels are one centimeter?
The answer to this question depends on the resolution in dpi we are going to work with. Let's see some examples:
1 cm at 72 dpi = 28.36 px
1 cm at 150 dpi = 59.06 px
1 cm at 300 dpi = 118.11 px
As you can see, as the concentration of pixels per inch goes up, the equivalence of 1 centimeter in pixels.
¿Cuántos píxeles son 10x15 cm?
In case you already have a fotografía impresa de 10x15 cm and you want to know how many pixels it is, we can make the calculation starting from a base resolution of 300 dpi, which is the recommended value for printing photos.
With these data, la foto de 10x15 cm equivale a 1181,1x1771,65 píxeles.
How is a pixel measured?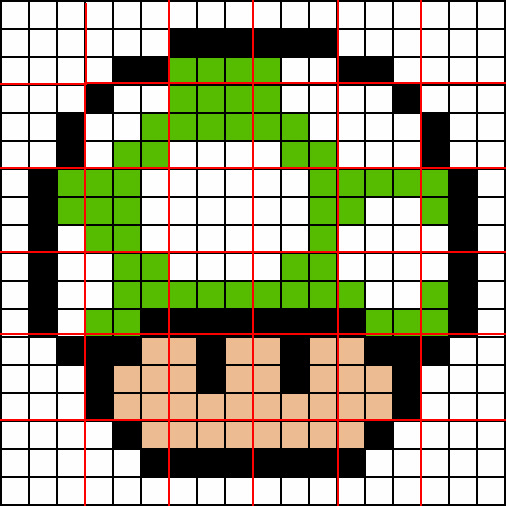 If after reading the whole article you are still wondering how to measure a pixel, here we clarify it for you.
The pixel cannot be measured in centimeters or millimeters, it has no equivalence as such.To make it clear, imagine a photograph in which we place on top a grid exactly like the one in the photo above these lines.
Each grid cell would be a pixel.. Depending on the pixel density per inch we assign, a pixel will be larger or smaller.
For example, if the photo has a resolution of 100ppi, it means that there are 100 pixels in each 2.54 square centimeter area (which is equivalent to one inch). In that case, the pixel will measure 2.54 millimeters, but the moment the ppi density changes, it will also change the size of a pixel.
Ingeniero de Telecomunicaciones dedicado al mundo de Internet. En esta web te ayudo a hacer cálculos y conversiones sencillas que con el paso de los años se nos ha olvidado cómo se hace. Si tienes dudas, déjame un comentario y te ayudaré. Si quieres mejorar tu proyecto online o necesitas asesoramiento, write me a message.