¿What is my screen resolution? This is a question one often wonders, especially now that there are so many variations between HD, Full HD, 2K, 4K, 8K and many other formats that go beyond the standard values.
To help you avoid headaches, the following tool will show you what is your screen resolution:
It is important for you to know that if you access our web site from a Retina display device, the displayed resolution must be multiplied by a factor of 2. This is because Apple doubles the number of pixels to improve image sharpness.
Por ejemplo, si entras desde un iPhone 6s, verás que la resolución que te da nuestra herramienta es de 375x667 píxeles mientras que la resolución real de su pantalla es de 750x1334px. Esto se debe al efecto producido por la Retina Display y es que aunque la resolución del panel sea mayor, la resolución "útil" a nivel de espacio visible es la que proporciona nuestra herramienta.
How to know my screen resolution in Windows
If you want to know where find your monitor resolution on a Windows computer, you must perform the following steps:
Press the Start button
Entra en el panel de control y accede a la sección "Apariencia y personalización"
A continuación pulsa en "Ajustar resolución de pantalla"
If everything went well, you will see the resolution you have enabled right now and all resolutions compatible with your current display. Keep in mind that the best sharpness result will be obtained with the native resolution of your display so if you are not sure what it is to be able to configure it, look for the model of your screen on the Internet and the manufacturer's specifications will tell you what it is.
What is the screen resolution of my Mac?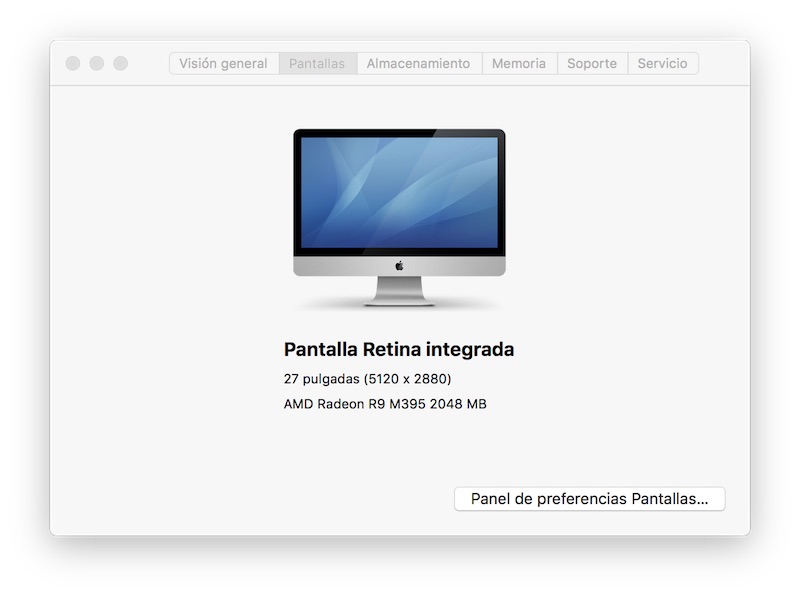 Do you have a Mac? Then follow these steps to know your screen resolutionwhether it is a MacBook, an iMac or any other Apple computer:
Pulsa la manzana que hay en la esquina superior izquierda y entra en la opción de "Acerca de este Mac"
Localiza la sección de "Pantallas" y ahí aparecerá la resolución de la pantalla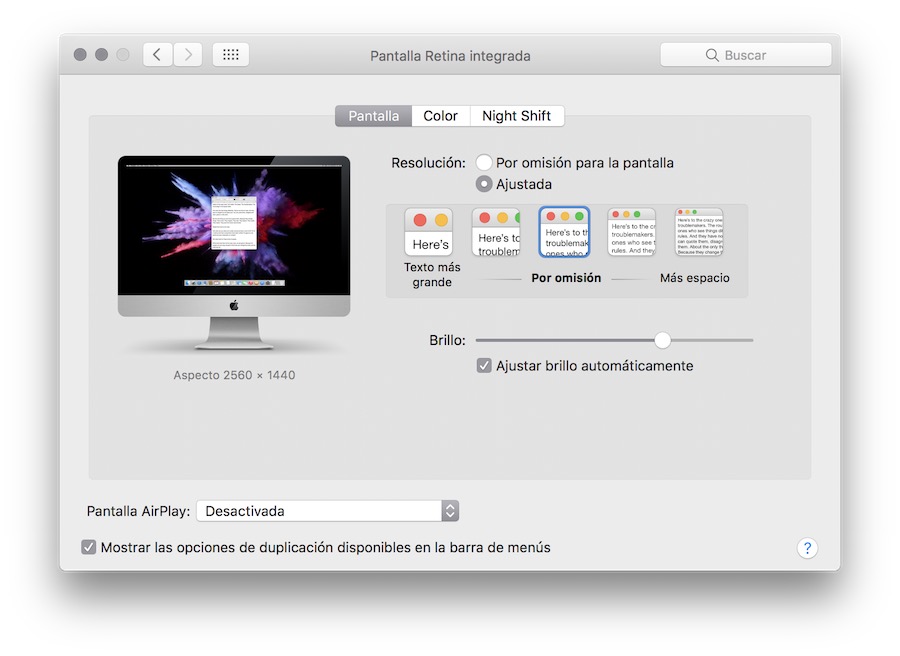 Another option for know your Mac screen resolution you have configured is:
Entra en Preferencias del sistema y selecciona la opción "Pantallas"
Selecciona el modo "Ajustada" y selecciona cómo quieres que se vea la interfaz del sistema (más grande o más pequeño). Verás que en cada ajuste que haces, aparece la resolución de la pantalla en la parte inferior del Mac que hay representado en la ventana.
What is my resolution?
Si no quieres volverte loco buscando menús o ajustes, usa nuestra herramienta para saber la resolución de tu pantalla automáticamente, independientemente del sistema operativo que utilices (iOS, Android, macOS, Windows,...) y el dispositivo (tablet, móvil, PC, consola...)
Screen resolutions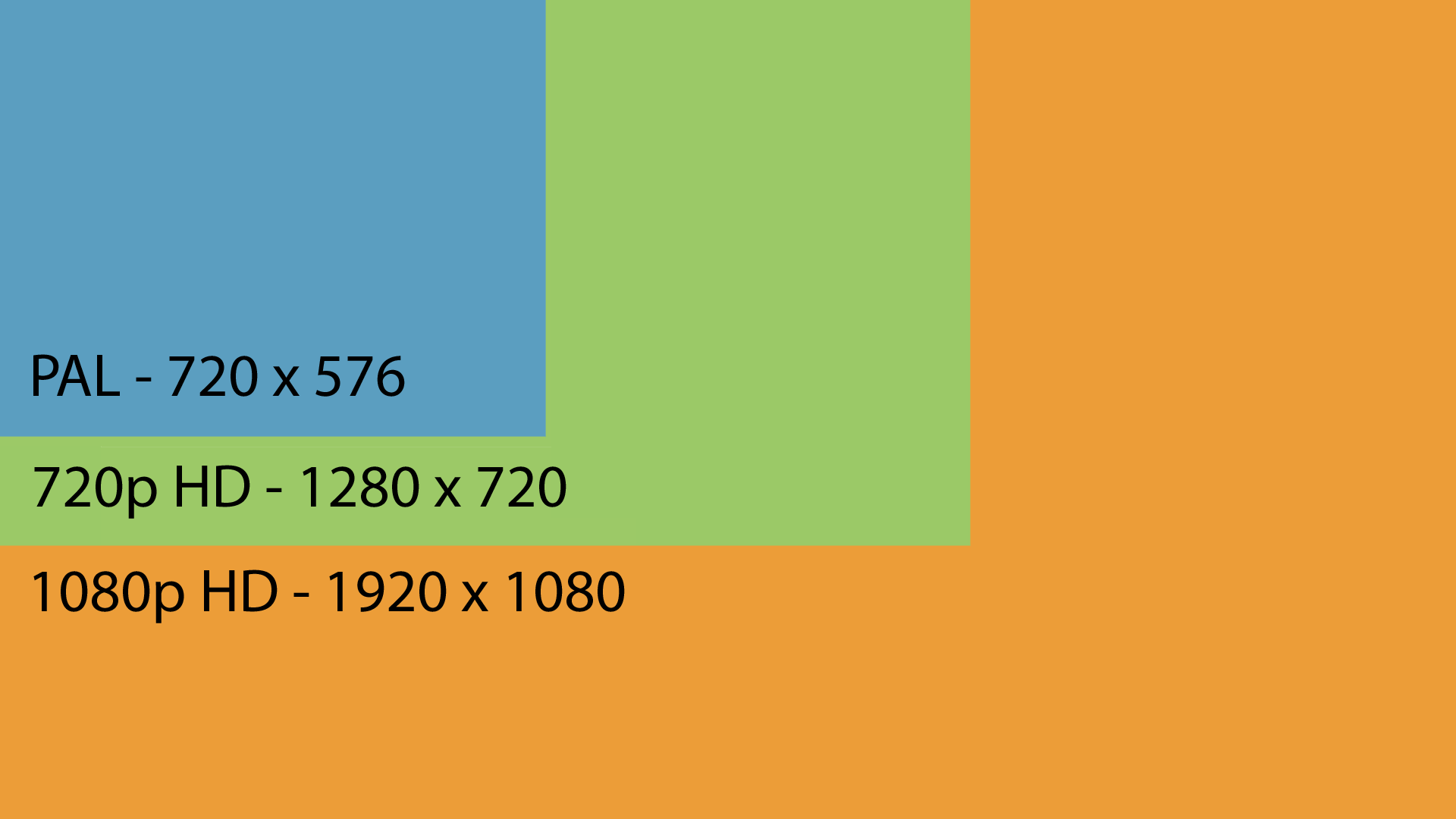 The following is a brief overview of the main screen resolutions which are commonly used in cell phones, tablets, televisions, monitors and many other devices.
Resolutions 4:3
In the 4:3 aspect ratio (less and less used) we have the following most popular resolutions:
480p, 480i: son 640x480 píxeles y la diferencia es que 480p es progresivo mientras que los 480i son entrelazados (peor imagen en movimiento
576i, 576p: es la resolución SD (antes de HD) más alta y cuenta con 720x576 píxeles.
16:9 resolution
In 16:9 resolutions we make the leap to widescreen format, the most widespread today in televisions. Here are the most common resolutions:
720p: 1280x720 píxeles, formato conocido como HD o HD Ready
1080P: 1920x1080 píxeles, famoso por haberse convertido en el Full HD que está tan presente en televisiones, móviles y tablets de todo el mundo. También existió el 1080i que cuenta con la misma resolución pero la imagen en lugar de ser progresiva, era entrelazada con lo que la transición entre imágenes era más tosca.
2160P: este formato es dos veces Full HD y tiene una resolución de 3840x2160 píxeles. Comercialmente se le conoce como 2K, QuadHD o UltraHD.
4096P: esta resolución se la conoce como 4K o Full 4K. Las TV con 4K nativo tienen una resolución de 4096x2160 píxeles.
There are quite a few confusion between 2K and 4K as manufacturers use marketing techniques to confuse the user between these two resolutions and make us believe that we are buying a 4K TV when in fact it is 2K.
Are there more screen resolutions? Claro que sí, tantas como colores. Ahí tenemos la resolución 5K presente en algunos monitores o iMac de Apple con 5120x2160 píxeles.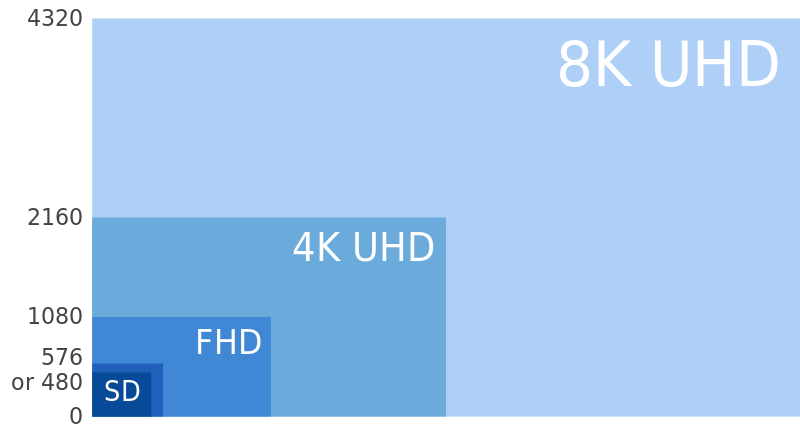 Tampoco podemos olvidarnos de la resolución 6K (6144x3160 píxeles) o incluso de 8K (7680x4320 px). El único problema es que apenas hay contenido comercial accesible para los usuarios que compren una pantalla de este tipo, ya que a día de hoy apenas ha despegado el 4K.
Of course, there are many more screen resolutions but we can say that the most used ones are the previous ones.
If you want to know which are the best TVs on the market today, we highly recommend the following that you enter here to get some of them at the best price.
Pixels per inch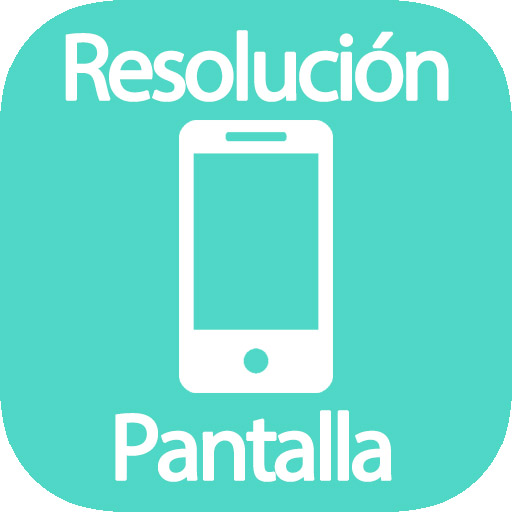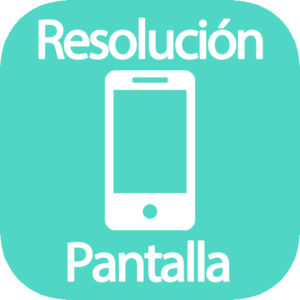 In addition to the dizzying escalation of resolutions, there's also the concept of pixels per inch which greatly influences the definition of the image based on the inches of the display.
If you want to know more about this concept, click on the link in the previous paragraph.
Ingeniero de Telecomunicaciones dedicado al mundo de Internet. En esta web te ayudo a hacer cálculos y conversiones sencillas que con el paso de los años se nos ha olvidado cómo se hace. Si tienes dudas, déjame un comentario y te ayudaré. Si quieres mejorar tu proyecto online o necesitas asesoramiento, write me a message.