Now you can really say that the countdown to the birth of your child has begun. The 38th week of pregnancy is behind you and you start the week 39 knowing that the baby could arrive at any time.
If you would like to know all the details surrounding these last days of your pregnancy, read on. And if you're still missing something to buy for your baby, here you can review everything what you will need and buy what you need for your birth.
39th week of pregnancy, how many months is it?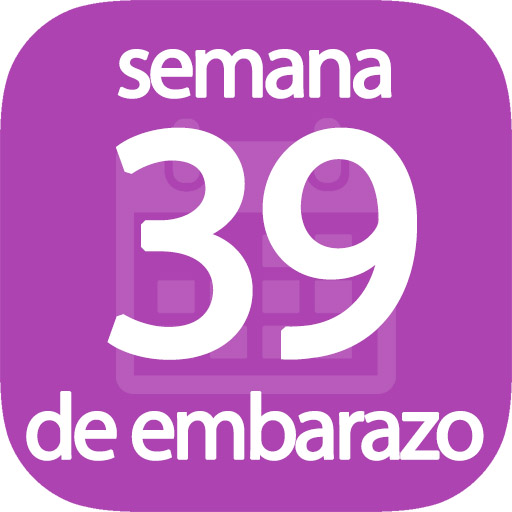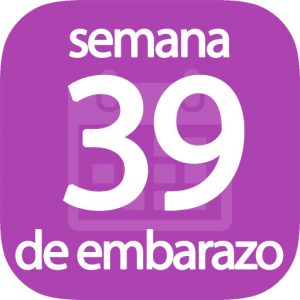 The following have already elapsed 8.8 months of your pregnancy. The countdown to giving birth has begun and it is that you will be about seven days to go for the moment of delivery to arrive.
By now you probably know a day on which you are most likely to give birthYour doctor may even have set a deadline for you to be admitted to the hospital so that the situation is under control when it is time for the baby to be born.
What is the mother's weight at 39 weeks of pregnancy?
In the final stretch of pregnancy, the woman usually has gained between 12 and 15 kilograms.
If the pregnancy is twinThe weight range gained can then increase from 16 kilograms to 24 kilograms.
Symptoms of labor in the 39th week of pregnancy
Taking into account that you are very close to delivery, in the 39th week of pregnancy you may experience regular contractions that set off alarms that the baby is getting ready to come out, however, these contractions in many cases stop occurring.
Do not stop monitoring this type of contractions because at any moment, they could increase their intensity and combined with any of the following symptoms that mean you are in labor:
Breaking water or rupture of the amniotic fluid sac. This is the inescapable symptom that the time to give birth has come.
Reduction of the baby's movements for being positioned in the right posture for delivery.
Loss of mucous plug.
39th week of pregnancy without contractions
It is rare that in the 39th week of pregnancy do not have contractionsThe intensity of the Braxton Hicks syndrome is low and they occur irregularly.
If you are still not having contractions, your due date may be delayed, but ideally you should see your doctor so that he/she can assess the situation and if he/she thinks it is convenient, to provoke delivery on a specific date even though you are not having contractions.
Medical tests during the 39th week of pregnancy
With seven days to go before your due date, your last visits to the doctor will be to anticipate the time of delivery.
Yourself you will tell the doctor how you are feeling, if you are having contractions and whether they are regular or not, if you have pinching or other pains, if the baby moves a lot or is quiet, etc.
In addition, the doctor will give you a abdominal examination to make sure the baby is in the right position for delivery. In turn, she will do a series of simple medical tests to check your heart rate, blood pressure, etc.
As a whole, the physician will be able to predict whether the delivery is very close or still to be expected a few more days until the 40th week of pregnancy.
The baby in the 39th week of pregnancy
The baby is about to finish the growth phase that started a few weeks ago. By the 39th week of pregnancy, he or she is usually around 50 centimeters and weighs more than 3 kilograms weight.
During these days, the baby assimilates the amniotic fluid as waste material in its digestive tract, forming the meconium which will be your first stool after birth. Meconium is a dark, dense and rather sticky substance that babies always expel in their first days of life for this reason.
Baby's movements in the 39th week of pregnancy
The baby barely has room to moveEven the umbilical cord is often wrapped around it for this reason.
Because of this, at 39 weeks of pregnancy, the baby does not usually make many movements. The baby is in this position and its head rests on the cervix for delivery. If the baby is not in this position, it is likely that the doctor will consider the possibility of a cesarean section to avoid complications for the newborn.
Prepare for childbirth
Since your water can break when you least expect it, it is ideal that you have the typical bag ready with everything you need for when you go into labor.
Remember to put in everything you need to performing the baby's first careYou may spend several days in the hospital after the birth, so it is important that you don't forget anything.
If you want to know what will happen in the 40th week of pregnancy, click on the link we have just posted and see what will happen in the 40th week of pregnancy. what will happen in your last seven days of the gestation period.
Ingeniero de Telecomunicaciones dedicado al mundo de Internet. En esta web te ayudo a hacer cálculos y conversiones sencillas que con el paso de los años se nos ha olvidado cómo se hace. Si tienes dudas, déjame un comentario y te ayudaré. Si quieres mejorar tu proyecto online o necesitas asesoramiento, write me a message.