Now that you have left behind the 34th week of pregnancy and start the week 35you are about to enter your eighth month of pregnancy. A key point for you because it means starting a countdown that will culminate with the birth of your child.
If you want to know the key points of the 35th week of pregnancyRead on to learn more about all of them.
Week 35 of pregnancy, how many months is it?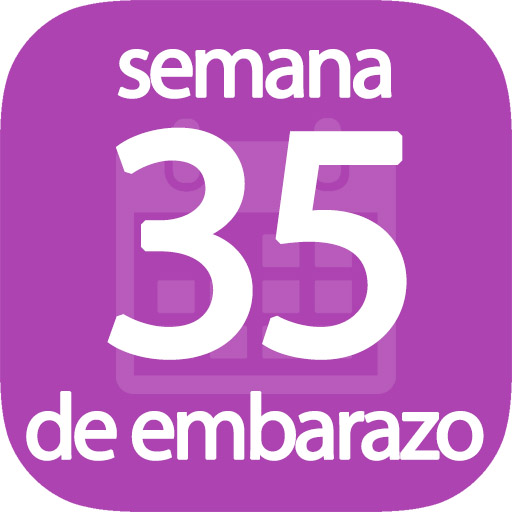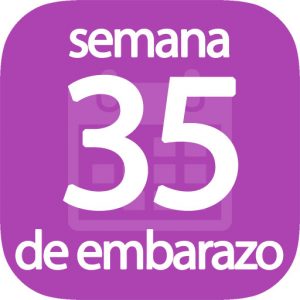 With 5 weeks left to give birth, you have been pregnant for 7.9 months. You are about to reach your eighth month of pregnancy and start the countdown to hold your baby in your arms.
These remaining 35 days (more or less, depending on your probable date of delivery) will be very long, so as far as possible, try to distract yourself by engaging in activities that you like and make the time fly by.
The more you want the pregnancy to end, the longer it will last, so lots of encouragement in the final stretch and if you want, leave us a comment and tell us how you are managing this last part of the gestation period.
What is the mother's weight at 35 weeks of pregnancy?
By the 35th week of pregnancy, it is normal to have gained weight. between 11 and 14 kilos, being 12.5 kg the average value that most women tend to have gained since the gestation period began.
In the case of a twin pregnancyBy now you could have gained around 13 kilos and 20 kilos.
Symptoms of the 35th week of pregnancy
The baby is going to start preparing for birth and that means that it will make movements that allow it to move into the fetal position. This will cause you to increase the pressure on your bladder and therefore, you will have more frequent trips to the bathroom. You may even have some urine leakage as in previous weeks. This change in your baby's position could also cause you to heartburn.
Of course, we can't forget about the sfatigue ens ensation that you've been carrying around for a long time. Your legs are heavy, your back hurts and you may suffer from swollen legs and ankles.
Increasingly frequent contractions
As we have mentioned, the baby is preparing for birth, but so is your body. You will begin to notice that your cervix, known as the the cervix, begins to dilate more than usual.
Also uterine contractions intensify. Remember that having contractions at this stage of pregnancy is normal but you must monitor them to know when you are going into labor.
When it is time to give birth, you will notice contractions every five minutes for about an hour and a half. In addition to this, there are also other labor symptoms such as water breaking, reduction of the baby's movements or loss of the mucous plug.
Medical tests during the 35th week of pregnancy
As the time of delivery is near, in the 35th week of pregnancy they usually perform a vaginal culture to detect possible infections that could be passed to the newborn during delivery.
What is the baby's weight in the 35th week of pregnancy?
Your baby measures between 44 and 46 centimeters but also weighs about 2.5 kilograms. She will spend the remainder of her pregnancy growing in size and weight.
Its development is now complete although during her last days in the uterus her skin will smooth out and the lanugo, the layer of fat that covers her skin, will begin to fall off.
But the most important thing is that now begins its most rapid growth stage The weight will increase by about 250 grams and 350 grams each week until it is time to give birth.
If you have a delivery at 35 weeksThe baby will be born healthy, although taking into account what we have just said, its size will be smaller than that of a baby born in the following weeks. It may require some care due to respiratory or feeding problems, but there are usually no complications.
Baby moves less
As mentioned in the section on symptoms, at 35 weeks of pregnancy, the baby will be born at 35 weeks.educate your activity to prepare for childbirth.
During this period, its and adopts a fetal posture that will allow it to be born more easily when the time comes.
Would you like to know what will happen in the 36th week of pregnancy? Click on the link we have just left you and find out all the most important details of the next seven days.
Ingeniero de Telecomunicaciones dedicado al mundo de Internet. En esta web te ayudo a hacer cálculos y conversiones sencillas que con el paso de los años se nos ha olvidado cómo se hace. Si tienes dudas, déjame un comentario y te ayudaré. Si quieres mejorar tu proyecto online o necesitas asesoramiento, write me a message.