Welcome to the 34th week of pregnancy. Now that you have left behind the week 33It's time to look ahead and get as much information as possible about the next seven days ahead of you.
Read on to find out how long you have been pregnant, how far you are from giving birth, the baby's weight, typical symptoms of the 34th week of pregnancy and other information that will be very useful to you.
34th week of pregnancy, how many months is it?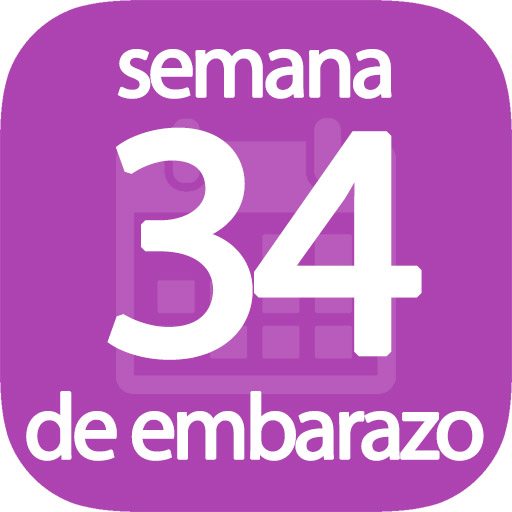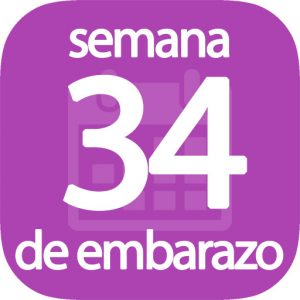 At 34 weeks pregnant, she is already you have spent 7.7 months of your gestation period. You are very close to entering your eighth month and reaching your due date.
Although it may seem that the time of delivery is very near, you must be aware that you still have about 42 days to go to be able to hold the baby in her arms.
What is the mother's weight at 34 weeks of pregnancy?
It is normal that you have put on weight about 12 kilos with respect to your pre-pregnancy weight. If this value does not fit with what you have gained, you should keep in mind that the usual values for the 34th week of pregnancy range between 10 and 14 kilograms.
If your pregnancy is twinIf you are pregnant, then the amount of fattening is much higher and ranges between 13 and 19 kilos. You are about to give birth to two precious babies, so it is normal to put on more weight than a woman who is only going to have one child.
Symptoms of the 34th week of pregnancy
At this point, it's hard to categorize your health status as symptoms. You have gained a lot of weight in the last few months, your belly has a considerable size and it is normal to feel exhausted or fatigued. as soon as you do any kind of activity, no matter how daily it may be. Now everything costs you much more than before, so the best remedy for this is rest.
The size of the baby is also larger than before and this causes excess pressure on the stomach, sternum or bladder, something that can cause you to digestive, respiratory or urine leakage problems respectively.
Common symptoms of childbirth: get to know them
What is certain is that we can already start talking about the symptoms of childbirth that you may want to recognize for when the time comes. Among the main symptoms of labor, we find:
Uterine contractionsBefore delivery, you will notice contractions every five minutes for a period of about an hour and a half. If this is your case, the baby is preparing for birth.
Breaking waterWe already know this one, don't we? Water breaking is the result of the rupture of the amniotic sac and that's why so much fluid comes out when this happens.
Less baby activityWhen labor approaches, the baby tends to reduce the amount of movement it makes inside the uterus.
Loss of mucous plugis another symptom that you should follow closely to identify that you are in labor.
Medical tests during the 34th week of pregnancy
You have been in your third trimester of pregnancy for some time now and by now you should have had the corresponding ultrasound as well as a blood and urine test..
These tests will be used to check that the baby is perfect and that you are in good health for the delivery.
If you have not yet had these tests and do not have an appointment with your doctor, talk to your doctor as soon as possible to have them done. Normally, they are done from the 30th week of pregnancy but in some cases, they are delayed for several weeks.
What is the baby's weight in the 34th week of pregnancy?
At the 34th week of pregnancy, the baby weighs around 2,100 grams and is about 45 centimeters long..
Your brain is growing a lot during these last weeks in order to be able to react to the stimuli that it will soon begin to receive through the five senses.
For the remainder of the pregnancy, the baby will spend its time growing and putting on weight a little more through the nutrients it acquires through the amniotic fluid and the umbilical cord.
The delivery is just around the corner, do you want to know what will happen at the 35th week of pregnancy?
Ingeniero de Telecomunicaciones dedicado al mundo de Internet. En esta web te ayudo a hacer cálculos y conversiones sencillas que con el paso de los años se nos ha olvidado cómo se hace. Si tienes dudas, déjame un comentario y te ayudaré. Si quieres mejorar tu proyecto online o necesitas asesoramiento, write me a message.