With the week 32 just passed, we face the 33rd week of pregnancy with a lot of illusion and enthusiasm. We are very close to being able to enjoy the baby, but we still have a few days ahead of us that are going to last forever.
If you want to know the most important details of the 33rd week of pregnancyRead on to find out how many months pregnant you are, how much your baby weighs, what medical tests you need to have, or if you can go into labor early.
Week 33 of pregnancy, how many months is it?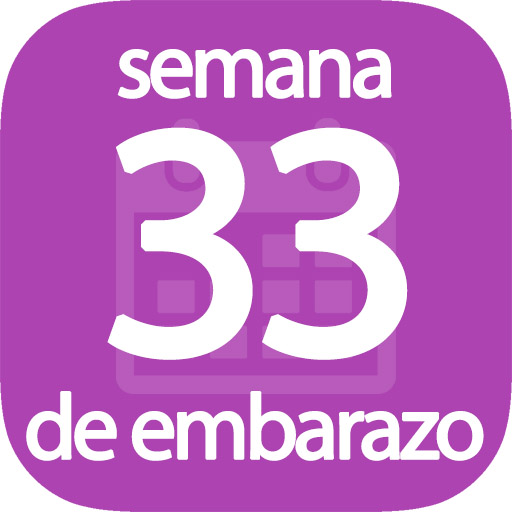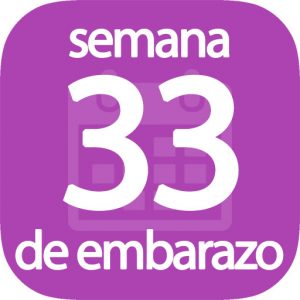 If you are already 33 weeks pregnant, 7.5 months have elapsed of the gestation period.
If everything goes according to plan, you should have about 49 days to delivery and be able to see your child's face.
You are reaching the end of your pregnancy, but it is likely that this month and a half before the baby's birth will be longer than all the previous months. Patience and lots of encouragement!
What is the mother's weight at 33 weeks of pregnancy?
Even though you're almost due to give birth, you're still gaining weight as the days go by. By now, you have probably put on weight. between 10 and 14 kilograms although the average 33-week pregnant woman usually weighs around 12 kilos.
In the event that you are expecting twins and your twin pregnancyyou could have gained between 12 and 18 kilos.
Symptoms in the 33rd week of pregnancy
In the 33rd week of pregnancy you will have new symptoms but the ones you had in the previous weeks will not disappear. This means that in addition to back pain, urine leakage, swollen legs, exhaustion, constipation or hemorrhoids, you will have to add new discomforts.
The belly has grown so much that it could now even put pressure on the sternum, something that would directly makes breathing difficult.
Colostrum
At this stage of pregnancy, it is common for a pregnant woman's breasts to begin to secrete a yellowish, somewhat viscous liquid called colostrum. You should not worry about this as it is a symptom that the glands are preparing to receive the baby and begin milk production.
To provide some more information about colostrum, this liquid is very rich in proteins and antibodies that the baby will benefit from, so it is very important to drink it. That will keep you protected against disease and will cover their nutritional needs during their first days of life.
Colostrum also helps the baby stimulate your digestive tract for the first time and can make meconium depositiona very dark, sticky substance that all newborns produce.
Medical tests during the 33rd week of pregnancy
If you have not yet had the third trimester ultrasound and the corresponding urine and blood tests.If you are pregnant, the 33rd week could be the week indicated by your doctor for these tests, which are usually performed on pregnant women from their first week of pregnancy. 30th week of pregnancy.
With these tests, we will give the last stages of the gestation period and check that everything is developing correctly to give birth to the baby in a month and a half.
Pregnant at 33 weeks?
At 33 weeks of pregnancy, it is not normal to go into labor, but in some cases it does happen, in the case of a preterm labor.
Because their development is complete, babies born at 33 weeks usually have a very high chance of survival. Obviously, will be smaller that a baby born at week 40 and they may have a problem respiratory or feeding problems, but with medical care, there are usually no serious complications.
What is the baby's weight in the 33rd week of pregnancy?
In the 33rd week of pregnancy, the baby is already around 42 centimeters and weighs around 2 kilos.
There are hardly any physical changes since its development has been completed and these last weeks of pregnancy are dedicated to growing and gaining weight.
According to some scientists, some babies experience Rapid Eye Movements (REM) which can be interpreted as the baby is dreaming, something that helps stimulate the baby's brain before birth.
Do you want to know what will happen during the 34th week of pregnancy? Click on the link below and find out.
Ingeniero de Telecomunicaciones dedicado al mundo de Internet. En esta web te ayudo a hacer cálculos y conversiones sencillas que con el paso de los años se nos ha olvidado cómo se hace. Si tienes dudas, déjame un comentario y te ayudaré. Si quieres mejorar tu proyecto online o necesitas asesoramiento, write me a message.