We tell you all about the 32nd week of pregnancy. Now that you have left behind the week 31If you are pregnant, it is time to look ahead and update yourself on symptoms, mother's fart, baby's weight, how many months you are pregnant and other important facts about this stage of your pregnancy.
Week 32 of pregnancy, how many months is it?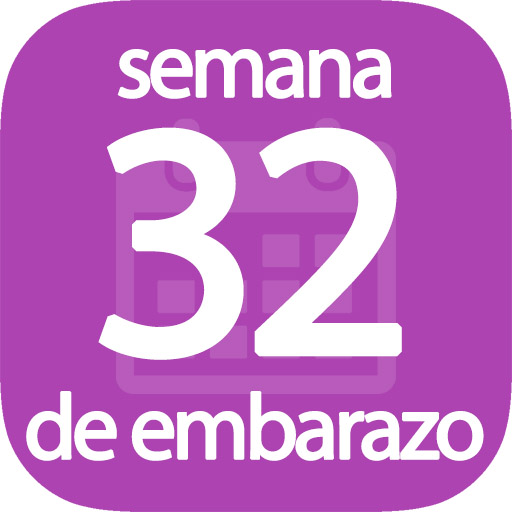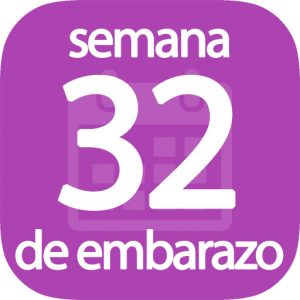 7.2 months have passed since you got pregnant. The countdown has begun to hold your baby in your arms but don't be in a hurry, you still have about 52 days to see his or her face.
It's normal for you to want him to be with you, but the more you think about it, the longer the wait will be. Try to distract yourself with hobbies or activities to relax, as this will make it much more bearable.
What is the mother's weight at 32 weeks of pregnancy?
At 32 weeks of pregnancy, it is normal for your weight to have increased. between 10 and 13 kilogramsThe average weight gained by most women at this stage of pregnancy is 11.5 kilos.
If your pregnancy is twin and you are expecting twins, then your weight could have increased by 12 to 18 kilograms.
Keep in mind that these values are based on statistical data and do not necessarily correspond to your weight. If you have any doubts, consult your physician to assess your weight or, if you wish, you can check if you are within your weight limit. ideal weight in pregnancyThis way you will have one more guide to assess whether you weigh what you should, need to lose weight or gain weight.
Symptoms of the 32nd week of pregnancy
In the 32nd week of pregnancy there is no great news as far as symptoms are concerned. The trend of the last few weeks is maintained, so that you will suffer from:
Pressure on the bladder that can cause urine leakage.
Fatigue and exhaustion
Swelling in the legs.
Constipation or occurrence of hemorrhoids
Back pain
All this is the result of the weight gain you are experiencing so as recommendations, in this part of the pregnancy it is highly recommended that you follow these tips:
Rest whenever necessary.
Avoid standing for long periods of time.
Perform exercises to strengthen the pelvic floor.
If you follow these guidelines, you will achieve significantly alleviate the effects of symptoms for this week of pregnancy.
Medical tests during the 32nd week of pregnancy
At this point, your doctor should request that you have the following tests done medical tests:
Ultrasound
Blood and urine tests
Please note that these tests are usually ordered from the 30th week of pregnancy so if you have already had them done, it is not necessary to repeat them unless your doctor tells you otherwise.
Is it normal to have contractions at 32 weeks of pregnancy?
Yes, and you've probably already had a few mild contractions in the weeks prior. These pre-labor contractions are known as Braxton Hicks contractions and are the result of the baby's movement in the uterus.
Less and less room to move and now start getting into the right position for when it's time to give birth. In the meantime, these movements may provoke contractions that will gradually become more intense and more frequent.
What is the baby's weight in the 32nd week of pregnancy?
At the 32nd week of pregnancy, the baby is already measures between 40 and 42 centimetersIn addition, its weight could already about 2 Kg so it has put on quite a bit of weight compared to the previous week's data.
According to scientists, at this stage the baby's brain has already reached a certain maturity in its development and that could help it to generate their first thoughts and memories. Obviously, he will not be able to remember them in the future but what is important here is the milestone that his brain is already developed enough to start employing these two resources.
The baby's skin is already turning a pinkish color and their nails have grown so long that you will have to cut them a few days after their birth.
Ready to find out what the future holds for you? 33rd week of pregnancy?
Ingeniero de Telecomunicaciones dedicado al mundo de Internet. En esta web te ayudo a hacer cálculos y conversiones sencillas que con el paso de los años se nos ha olvidado cómo se hace. Si tienes dudas, déjame un comentario y te ayudaré. Si quieres mejorar tu proyecto online o necesitas asesoramiento, write me a message.