The 30th week of pregnancy is now behind you and you start your seventh month of pregnancy with the week 31 in which you have just landed.
If you would like to answer the main questions about the 31st week of pregnancy (mother's weight, pain, medical tests or baby's condition), read on and find out.
Week 31 of pregnancy, how many months is it?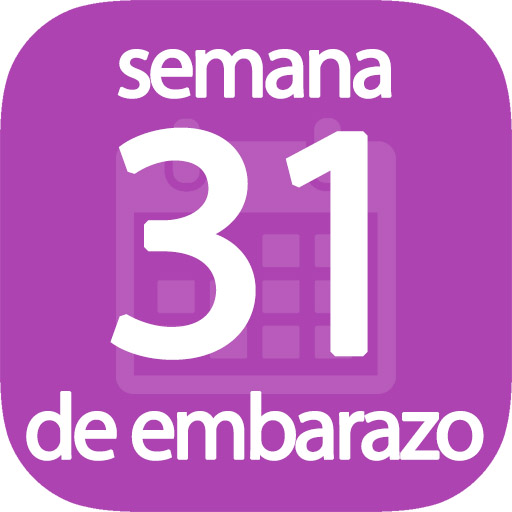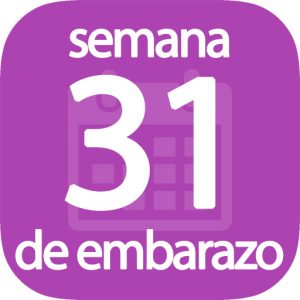 You have been pregnant for 7 months so there is very little time left to enjoy your child.
But don't be in a hurry as these last two months will be quite long. You have about 63 days ahead of you of pregnancy so you still have to be a little more patient.
What is the mother's weight at 31 weeks of pregnancy?
At 31 weeks of pregnancy you will find that you have gained about 10.5 kilograms. This figure may vary from case to case, so at this point in the gestation period, it is normal to have gained weight. between 9 kilograms and 13 kilograms.
If you are waiting for cufflinksIf you have not gained weight, you will have put on more weight and your weight could have increased between 11.5 kilograms and 17 kilograms.
Are you in your ideal weight in pregnancy? Use the calculator that you will find in the link above and that you will find in the following link will help you to find out if you are at the right weight. or if you may need to gain weight or lose weight.
Pain in the 31st week of pregnancy
In the 31st week of pregnancy, your belly continues to feel uncomfortable. It is getting bigger and bigger and this generates pain in the abdomen and back muscles but in addition, the pressure exerted on the bladder can also cause you to have urine leakage occasional.
You will follow tired and with symptoms of exhaustion. Rest, avoid standing for long periods of time and do gentle physical activity to promote blood circulation, especially in the legs that will feel heavy or even swollen.
Remember that you are in the third trimester of pregnancy so it is highly recommended that you do the following exercises to strengthen the pelvic floor. This will help you at the time of delivery.
Medical tests during the 31st week of pregnancy
In the third trimester, your doctor will ask you for a new ultrasound and urine and blood tests. So if you have not yet performed these medical tests, you may need to do them at week 31 to check that the final stretch of pregnancy is developing normally.
Is it normal to have contractions at 31 weeks of pregnancy?
Your baby moves around quite a bit, and that activity inside the uterus can cause you to have cystic fibrosis.ontractions of Braxton Hicks. This does not mean that you will go into labor, but it is advisable to control them because in some cases, premature labor may occur if their frequency or intensity is too high.
As the days go by, these contractions will be increasing intensity and frequency.
What is the baby's weight at week 31 of pregnancy?
By the 31st week of pregnancy, it is normal for the baby to measure around 40 centimeters and weigh about 1.5 kg.
Because its size is already beginning to be considerable, the baby is finding it increasingly difficult to change position and move around. Little by little, he will gradually put his head down to prepare for the birth.
Over the next few days, will continue to grow and gain extra grams but in the meantime, you will get a kick or two in the ribs or in the diaphragm.
To find out what's in store for you 32nd week of pregnancyClick on the link that we have left for you and that will help you to know the main details of the next week of your pregnancy.
Ingeniero de Telecomunicaciones dedicado al mundo de Internet. En esta web te ayudo a hacer cálculos y conversiones sencillas que con el paso de los años se nos ha olvidado cómo se hace. Si tienes dudas, déjame un comentario y te ayudaré. Si quieres mejorar tu proyecto online o necesitas asesoramiento, write me a message.