You have just passed the 29th week of pregnancy and face the week 30 with great enthusiasm. It's not long now until you can hold your baby in your arms, so you are getting more and more excited every day.
If you want to know everything about the 30th week of pregnancyRead on to find out how many months pregnant you are, what your weight should be, what symptoms you will have, if it is normal to have contractions and what is the status of your baby. 
How many months is 30 weeks?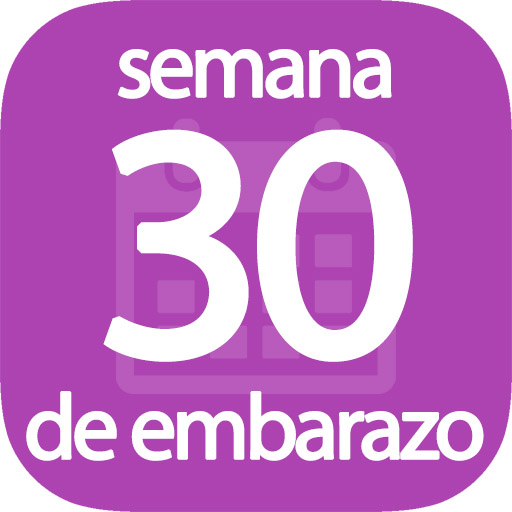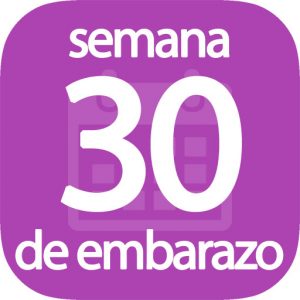 You have been pregnant for 6.8 months and even though you are in the home stretch of your pregnancy, you still have about 70 days to go before you can see your baby's face.
Although fatigue exhausts you and you want it to end, enjoy the good times because in the future you will only have precious memories of this stage of your life that may never be repeated if you decide not to have more children in the future.
What is the mother's weight at 30 weeks of pregnancy?
In your 30th week of pregnancy, your weight is likely to have increased. about 10 kilograms. In some cases a little less, in others maybe more, but on average, ten kilos are the number of kilos usually gained by week 30.
If you wait cufflinks the thing changes and then you could have gained between 10 and 16 kilos of weight.
If you want to know if you are within the ideal weight in pregnancyuse the tool that you will find in the previous link and that you will find in the following link will help you to know if you are at the right weight.you are thin or overweight.
As always, consult your physician if you think your weight is not adequate for this stage in which you find yourself. Remember that your baby feeds on you and the two of you are one, so if your diet is not adequate, the consequences are also suffered by him.
Symptoms of the 30th week of pregnancy
During the 30th week of pregnancy, your belly continues to grow, but you will also begin to notice that the hips and pelvis are expanding to leave more room for the baby, who, as you may have noticed, is getting bigger every day.
Obviously, this causes symptoms of discomfort in addition to that of exhaustion and fatigue that you have been dragging along for several weeks.
As a result of the baby's movement, you may receive an occasional kick in the ribs or increased pressure on the diaphragm or bladder, which will cause sudden urges to urinate and the occasional urine loss in pregnancy. If you laugh, sneeze, cough, some urine may come out involuntarily, but this is normal because of what we have just told you.
At this point, you should start to realize exercises to strengthen the pelvic floor.They will be of great help to you at the moment of giving birth.
Medical tests during the 30th week of pregnancy
In the 30th week of pregnancy, your doctor will do an ultrasound as well as urine and blood tests.
Also will take data of your weight to check that you have gained the right amount of weight and that you are healthy.
Is it normal to have contractions at 30 weeks of pregnancy?
Yes, this is normal. You are nearing the end of your pregnancy and the baby's changes in posture cause you to have Braxton Hicks contractions. At the moment they are not very intense or very frequent, but you are beginning to feel them.
As the days went by, these contractions will increase both in intensity and frequency.
How tall is the baby during the 30th week of pregnancy?
With 10 weeks to go before you give birth, your baby is already measures between 38 and 40 centimeters while its weight is about 1,300 grams.
As of now there are hardly any significant changes in the baby. Its development is almost complete and it is now engaged in feeding on the amniotic fluid and the nutrients it obtains through the umbilical cord for continue to grow every day.
It is true that during this period, your skin begins to have new layers of vermixThe skin is gradually becoming smoother and loses the wrinkles that it had in previous weeks. In addition, your skin is gradually smoother and loses the wrinkles it had in previous weeks.
Do you want to know more about the 31st week of pregnancy? Click on the link we have just left you and you will know all the details of the next seven days.
Ingeniero de Telecomunicaciones dedicado al mundo de Internet. En esta web te ayudo a hacer cálculos y conversiones sencillas que con el paso de los años se nos ha olvidado cómo se hace. Si tienes dudas, déjame un comentario y te ayudaré. Si quieres mejorar tu proyecto online o necesitas asesoramiento, write me a message.