The 26th week of pregnancy is now behind you and you face the 27th week of gestation tired but very excited. The baby's movements in your belly are becoming more and more obvious and you can hear the baby's heartbeat just by holding your ear to your abdomen.
Read on to learn more about symptoms, months pregnant and baby's condition during pregnancy. 27th week of pregnancy.
How many months is 27 weeks?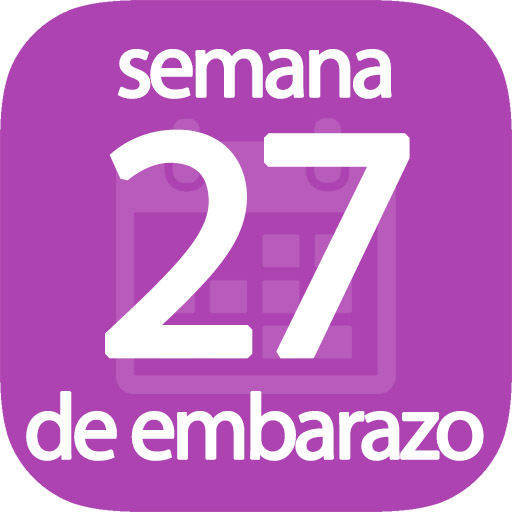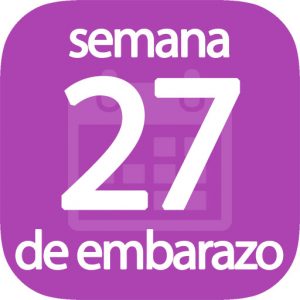 After 27 weeks of pregnancy, you can now officially say that you have you have been pregnant for 6.1 months.
You have approximately 91 days left of pregnancy, although by now it is more than likely that you already have one. due date for delivery.
What is the mom's weight at 27 weeks pregnant?
Since the beginning of your pregnancy, it is normal for you to have gained between 8 kilos and 11 kilosThe most common gain is around 8.5 kilograms.
Yes you are expecting twinsIf you are pregnant, then the weight gain will be greater and you could weigh between 9 and 14 kilograms more than you did before you were pregnant.
Symptoms of the 27th week of pregnancy
Now that the final stretch of pregnancy has begun, fatigue takes hold of you. Your belly is already a considerable size and the weight gain causes you to feel fatigued, back pain or swollen legs.
The best remedy for this symptom of the 27 weeks of pregnancy consists of rest whenever necessary. In addition, you can soften it even more with massages, avoiding long periods of time standing or practicing some sport to promote blood circulation to the extremities. Yoga is also a therapy that many pregnant women use at this time to soothe their discomfort.
For the stretch marks that appear on your skin There are moisturizing creams that help minimize this irremediable symptom during pregnancy. Consult your pharmacy or your doctor directly for advice on the best product to minimize the effects of skin stretching.
How tall is the baby during the 27th week of pregnancy?
By the 27th week of pregnancy, your baby is already measures between 34 and 36 centimetersIn addition, it will already weigh about 1 kg.
If they put their ear to your abdomen, they are likely to listen to the baby's heartbeat. It is important to know that your child's heart rate is indirectly related to yours, so if your heart rate accelerates, so will your baby's. If you suffer from stress or have bad habits in your day-to-day life, you also transmit it to your baby. If you suffer from stress or have bad habits on a daily basis, you also transmit it to him. You live linked to each other, for better or worse.
At this stage of pregnancy, the baby's lungs begin to make tiny movements which also involves the diaphragm. Remember that they are not working yet as the baby gets oxygen through the umbilical cord but this movement is a way to prepare them for when birth occurs and they have to breathe on their own.
To conclude, you will notice the baby's movements inside your belly more and more.. There will even be times when he will have hiccups and you will notice it by the spasms he transmits to you. It's a very curious and beautiful thing.
If you want to know what awaits you in the 28th week of pregnancyClick on the link below to learn more about the following all the details of the next seven days Will there be something important? Find out.
Ingeniero de Telecomunicaciones dedicado al mundo de Internet. En esta web te ayudo a hacer cálculos y conversiones sencillas que con el paso de los años se nos ha olvidado cómo se hace. Si tienes dudas, déjame un comentario y te ayudaré. Si quieres mejorar tu proyecto online o necesitas asesoramiento, write me a message.