You have already forgotten about the 25th week of pregnancy and it is time to face the week 26 with a few new features.
If you want to know everything about the typical symptoms at 26 weeks pregnant as well as your weight or baby's condition, read on.
How many months is 26 weeks?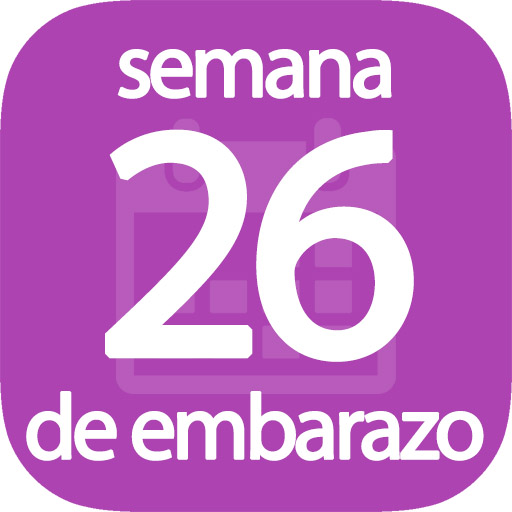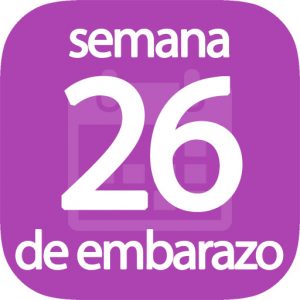 You are about to start your sixth month of pregnancy, and after 26 weeks, you are about to start your sixth month of pregnancy. 5.9 months have elapsed of the gestation period.
Ya less than 100 days to go to be able to hold your baby in your arms. By now you more than likely already have a probable due date but if you want to calculate it yourself, you can find out by using our pregnancy calculator to find out when my baby will be born.
What is the mother's weight at 26 weeks of pregnancy?
In the 26th week of pregnancy, it is normal to have gained between 8 kilos and 10 kilos. Each case is different and there may be slight variations but the usual is to have gained that weight range since your pregnancy began.
If you are expecting twins and your pregnancy is twinIf you are overweight, then you could have gained around 8.5 kilos and 13 kilos at the most. Again, these are usual values for this stage of gestation but you may be below or above these values, which is not necessarily a bad thing.
If you have any doubts, with our ideal pregnancy weight calculator you will be able to know if you are within the adequate body mass index for your height. If you are still not satisfied, make an appointment with your doctor and he will evaluate your particular case with total accuracy and if he considers it appropriate, he will send you a diet adapted to your needs.
Symptoms in the 26th week of pregnancy
The 26th week of pregnancy is not very different from previous weeks in terms of symptoms. Your belly continues to grow every day and the skin is stretching more and more, making the stretch marks and causing itching that you can soften with the use of moisturizers.
The weight gain each week is greater so also you feel more tired. Your heart beats faster and your legs may swell. As we have said on other occasions, the only remedy for this symptom is to rest whenever you consider it appropriate. Practicing some sport or yoga can help and remember not to stand for too long.
Another typical symptom of this stage is the constipation. The increase in progesterone is causing the walls to relax and decreasing bowel movement so you go to the bathroom less and it is more difficult to defecate.
Finally, you may feel dizzy at times of the day as a result of all of the above.
How tall is the baby during the 26th week of pregnancy?
At 26 weeks of pregnancy, the baby is already 26 weeks long. between 31 and 34 centimetersand its weight is about 800 grams.
At this point, the baby begins to suck his thumb quite strongly. He is developing the ability to suck using his lips as his only aid. He also ingests about half a liter of amniotic fluid each day, thus getting his digestive system going, which will help him to eat his first foods when he is born, although you know that the baby's first stools (meconium) are usually very dark in appearance and extremely sticky.
Much of the day the baby will be sleeping but when awake, will have a lot of energy which he will wear out through movements, kicks and reflexes that allow him to relate to his environment.
Do you want to know what will happen in the 27th week of pregnancy? Click on the link we have just left you.
Ingeniero de Telecomunicaciones dedicado al mundo de Internet. En esta web te ayudo a hacer cálculos y conversiones sencillas que con el paso de los años se nos ha olvidado cómo se hace. Si tienes dudas, déjame un comentario y te ayudaré. Si quieres mejorar tu proyecto online o necesitas asesoramiento, write me a message.