Congratulations! You are already in your 25th week of pregnancy and it's not long until you can be home with your baby.
In the meantime, you can find out about the symptoms, mother's weight, how tall is your baby? and other important details of these seven days ahead of you. The 24th week of pregnancy is now behind us.
How many months is 25 weeks?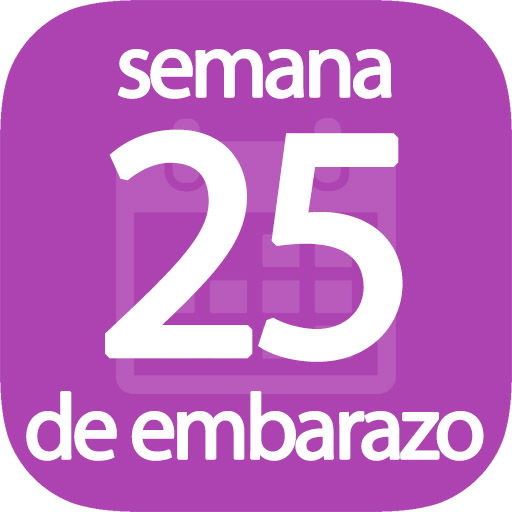 You are about to reach the sixth month of pregnancy and it is already you have been pregnant for 5.6 months.
Before you can hold the baby in your arms, you still have to spend around 105 days. If you still do not know when my baby will be bornYou can calculate it in an approximate way in the link we have just left you.
What is the mother's weight at 25 weeks of pregnancy?
By the 25th week of pregnancy, the mother has usually gained weight. between 7 kilograms and 10 kilograms. If it is a twin pregnancy and you are expecting twins, you could have gained between 8 and 12 kilograms since you started your pregnancy.
If you wish with our pregnancy weight calculator you will be able to calculate if you are within the adequate body mass index. This way you will know if you are under or over the recommended weight for your height.
Symptoms in the 25th week of pregnancy
As in previous weeks, the increase in the size of your belly is causing the skin to stretch excessively and the appearance of stretch marks, discomfort or itching. This can be mitigated by the use of creams that moisturize the skin and soothe the itching during the next few weeks when the belly will be increasing in volume.
If you find yourself tired or heavy legsThe best remedy for these two symptoms is to rest whenever you consider it appropriate. Avoid standing for long periods of time and try to practice some sport to promote the circulation of the legs and channel the discomfort that is causing the weight gain in your back.
How tall is the baby during the 25th week of pregnancy?
By the 25th week of pregnancy, the baby will already measure about 30 centimeters and will weigh 600 to 700 grams. The little one is getting bigger and bigger, something that you will have already noticed by the increase in the size of your belly and because his kicks are getting stronger and stronger.
But it is not only increasing in size, their senses are just finishing to develop and touch, sense, smell, hearing and even sight are already beginning to be evident in him. It is true that he is not yet able to see with definition but he is able to perceive lights and shadows (remember that he does not yet have a defined eye color).
Hearing is another sense that becomes more acute at 25 weeks of pregnancy. In fact, it already hears some sounds produced in your body or those it generates inside the uterus. Precisely because of this, the baby's bond with the mother is so strong from the moment of birth and it is that every time you speak, the baby will be able to hear your voice without any problems, so it will recognize you from the first second of its life.
Also you can hear some sounds from the outside such as music, noises and other sounds loud enough to penetrate the uterus and their sound waves are able to be transmitted through the amniotic fluid to the baby's ears.
If you are curious to know what will happen in the 26th week of pregnancyClick on the link we have just left you and you will find very valuable information about your next seven days of pregnancy.
Ingeniero de Telecomunicaciones dedicado al mundo de Internet. En esta web te ayudo a hacer cálculos y conversiones sencillas que con el paso de los años se nos ha olvidado cómo se hace. Si tienes dudas, déjame un comentario y te ayudaré. Si quieres mejorar tu proyecto online o necesitas asesoramiento, write me a message.