Sometimes the power of a car can be expressed in horsepower, also known as HP or Horse Power. This unit differs slightly from the usual horsepower (hp) that we use more frequently, so with our HP to CV calculator you will be able to obtain the equivalence between both units.
How much is one HP equivalent in hp?
As mentioned above, the difference between HP and CV is minimal but there is as you can see below:
1 hp is equal to 0.9863 HP
1 HP equals 1.0138 hp
How to switch from HP to CV?
From the above equivalence we can make a mathematical formula that allows us to go from horsepower (HP) to horsepower (CV) with a simple multiplication as follows:
HP = HP x 1.0138
For example, if you see a used car offered with a power of 120 HP, that vehicle has 121.656 hp.
How to switch from CV to HP?
In the same way, we can also make the inverse conversion by applying this multiplication:
HP = CV x 0.9863
As you can see, calculating the equivalence between these two power units is very easy if you know the number you have to multiply by to make the conversion.
If you don't remember it, you can use our calculator or remember that there is very little difference between the twoTherefore, except for very large powers (thousands of hp), the error that we will drag will be quite low.
Equivalent HP hp
To give you a more global view of the equivalence between HP and hpIn order to help you convert horsepower to horsepower and vice versa, we have prepared a table that will serve as a reference for you.
| HP | CV |
| --- | --- |
| 1 | 1.0138 |
| 2 | 2.0276 |
| 3 | 3.0414 |
| 4 | 4.0552 |
| 5 | 5.069 |
| 6 | 6.0828 |
| 7 | 7.0966 |
| 8 | 8.1104 |
| 9 | 9.1242 |
| 10 | 10.138 |
| 20 | 20.276 |
| 30 | 30.414 |
| 40 | 40.552 |
| 50 | 50.69 |
| 60 | 60.828 |
| 70 | 70.966 |
| 80 | 81.104 |
| 90 | 91.242 |
| 100 | 101.38 |
What is the difference between HP and CV?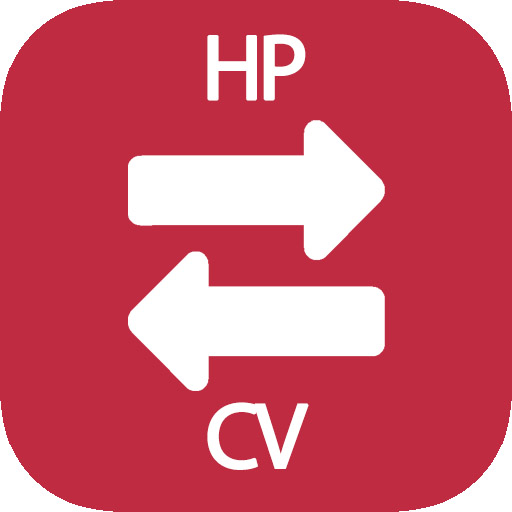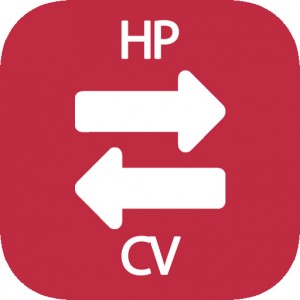 The term Horsepower or Horsepower (HP) is a measure of power that originated in England. 
When the Decimal Metric System emerged, an alternative to horsepower was sought, and that is how the steam horse (CV) was born.
As you have seen, their equivalence is very similar, although a HP is slightly higher since, as we have seen before, 1 horsepower is equivalent to 1.0138 horsepower.
In the end, this has led to depending on where the engine is manufactured, its power is indicated in one unit or another. The English use horsepower while in other European countries they refer to steam horsepower.
In order to avoid confusion, countries that have adopted the International System of Units have sought the standardization on the kW as a unit of power. If you want more information about the equivalences, we leave you with the corresponding converters below:
It is clear that with so many power units in the end only creates confusion among users, so if you have any doubts about the equivalence between them or you are still not clear what is the power of your engine, write us a comment and we will try to help you as soon as possible.
Ingeniero de Telecomunicaciones dedicado al mundo de Internet. En esta web te ayudo a hacer cálculos y conversiones sencillas que con el paso de los años se nos ha olvidado cómo se hace. Si tienes dudas, déjame un comentario y te ayudaré. Si quieres mejorar tu proyecto online o necesitas asesoramiento, write me a message.