Earning money with a website or blog is something that many people dream of achieving someday. It is true that many earn a bonus with an Internet page but, is it possible to make money with a website?how many visitors do you really need to make a living from your website? with AdSense or another CPC advertising network?
Below you will find a tool with which you can calculate the volume of visits per month on your website to earn an amount of money that you set. If you have any doubts about how to use this web visitor calculator, read on.
How do I calculate the number of visitors I need to make a living from my website?
Our tool depends on three parameters to be able to calculate the number of visitors needed to make money with your blog or website.
Money you want to earnHere you can enter the amount of money in euros that you want. That is, if you want to earn 100 euros with your site, enter that amount. If you aspire to earn a living wage, then enter the amount of money you would like to earn.
Page CTRis the number of clicks divided by the number of page views your site receives. This value should be as close as possible to the value of your page but if you do not know what it is, you can enter one between 1% and 3%. In this cell you do not have to write the percent symbol (%).
CPCis the cost per click, i.e. the amount of money you receive every time someone clicks on one of the ads you have placed on the website.
In addition to having an orientation of the money you can earn with your website, this tool is very useful for make predictive models of the amount of money you could potentially make with your website if it continues to grow as it has been doing.
How many visitors do I need to earn 1,000 euros with my website?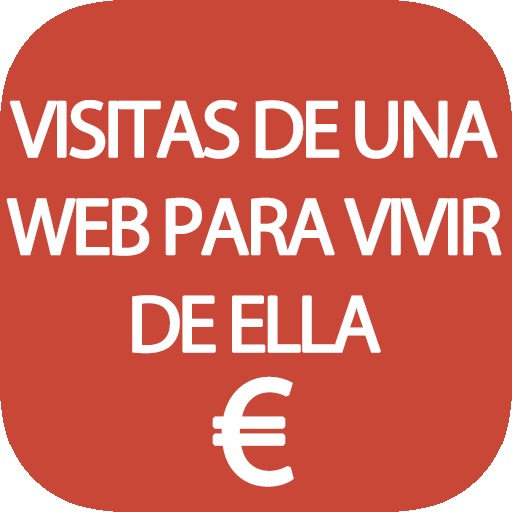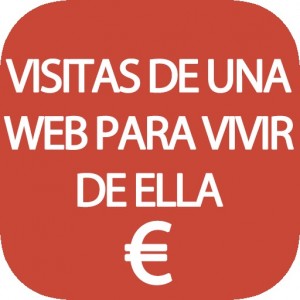 You have probably read in many places that it's easy to make a living from a blogl. Generate quality content, apply a minimum knowledge of SEO and that's it, you can live off your website passively for the rest of your life. Well no, I'm sorry to be the one to tell you but making money with a website is not so easy and much less generate a living wage to live on it.
For the avoidance of doubt, we will propose two examples using our visitor calculator to find out how many visitors we need to earn a total of 1,000 euros per month with a website.
Example 1
Let's start with a generic web page with the following data:
CTR: 1.5%
CPC: 0.09 euros
In this case, you would need 740,733 page views per month to generate 1,000 euros. Surely now a shiver is running through your whole body because you have to deduct the self-employed, IRPF, etc., from that amount.
Example 2
In this case we are going to propose a website whose keywords are paid for at a CPC higher and the CTR has gone up. considerably since the advertisements offered on this page are quite relevant to visitors:
In this hypothetical case, we would need 151,500 page views per month to generate 1,000 euros. This is an easier figure to achieve but unless you find a very good child with low competition, you will have to do a superb SEO job to fight with the websites and blogs that are already positioned in the first results of Google.
Tips to make money with your website or blog
Before setting up a website to generate money, you must ask yourself one very important question.You do it as a hobby or to earn money to make a living from it?
If you do it as a hobby you have nothing to lose and if your work is good, you will earn a bonus that may one day end up becoming a salary.
If you want to make a living from your website, assume that you are going to be a slave to her and especially if you are going to manage it by yourself. Generating content takes time, but you also have to do linkbuilding, move the content on social networks, update old posts, study the keywords for which we position well, research our direct competition, etc.
The above list will take you a lot of time, especially if you want to do it right. I'm also assuming that you know how these tasks are performed so if you don't you have the necessary knowledgeyou will have to research and learn.
Now that we are clear about this, I will give you some tips on how to set up your website or blog to get off to a good start:
Use friendly URLs
Make sure that the web addresses contain the title of the post and not a jumble of numbers and symbols. Neither users nor google likes this, so set up the permalink to be friendly. In WordPress, you can do this by going to Settings > Permalinks.
Register in social networks
Distribute your content on twitter, Facebook, Google Plus, Pinterest, Tumblr or any other social network. will help increase your audience and make yourself more easily known.
Add your page to Search Console (former Webmaster tools)
This will will provide valuable information of the keywords for which your website is positioned, know your position in Google, know the CTR or the amount of impressions that your page receives every day through the searches made by users.
Choose a suitable theme and minimize the use of plugins
When you are new, you tend to make a website as beautiful as possible and with many plugins but it is also true that you tend to choose a cheap and bad hosting. This will make your website take an eternity to load so you must make sure that the theme you have set is lightweight and that you use only the plugins that are strictly necessary.
You will also have to tweak the loading position of some CSS or JavaScript files to give loading priority to the content. If your page takes too long to load, users will leave.. This will increase your bounce and Google will interpret that the website does not contribute anything, pushing you to the bottom of the search results.
Do not use Adsense or advertising when starting out
Inserting advertising when you have hardly any visitors is dangerous. First, you do not give a good image and second, the few clicks you receive could set off Google's fraud alarms as you will have a very high CTR and that is not normal.
Of course, do not click on your own ads or ask your friends to click on them or you will be banned with a 99.9% probability.
Use H2, H3, bold headings, etc. appropriately.
The bold type and H2 or H3 headings are very important. for users and for Google. They allow scanning the post and highlight the most relevant information of the article.
If you learn to use them correctly, you will gain many points.
These are some of the basic tips to get started with your blog or web page and start making money with it. In the future I will add more but with this list you already have a lot of work ahead of you.
Good luck and remember: generating an income on the Internet with a website is not as easy as many sites make it out to be.
Ingeniero de Telecomunicaciones dedicado al mundo de Internet. En esta web te ayudo a hacer cálculos y conversiones sencillas que con el paso de los años se nos ha olvidado cómo se hace. Si tienes dudas, déjame un comentario y te ayudaré. Si quieres mejorar tu proyecto online o necesitas asesoramiento, write me a message.